Special Tools
Special Tools are, by nature "one-trick ponies", only useful for one job. The general-purpose tools we detailed in Part 1 of this series are a better value and of greater necessity because you'll get more use out of them. But sometimes there's just no substitute for a special tool. Special tools range from those that make the job simpler and easier to those that are so indispensible, the job would be difficult if not impossible without them.
Drive Chain & Belt Tools
Chain Cleaning
Chains should be cleaned before they're lubed and this messy job is made much simpler with The Grunge Brush. It has a 3-sided brush enclosure at one end with O-ring safe bristle blocks that are adjustable for different size chains and replaceable when the bristles wear down, and a long-bristled brush at the other end for cleaning sprockets and other areas.

Chain Adjustment
Keeping your chain in proper adjustment is a critical part of motorcycle maintenance. A chain that's too loose will create a lot of driveline lash that's noticeable when you get on and off the throttle, and in the worst case scenario the chain could even come off the sprockets and become jammed with unfortunate consequences. A tight chain will cause excessive wear to the sprockets and other components and could even reduce your shock travel. The Motion Pro SlackSetter Pro quickly and accurately measures chain slack so you can keep your chain in proper adjustment.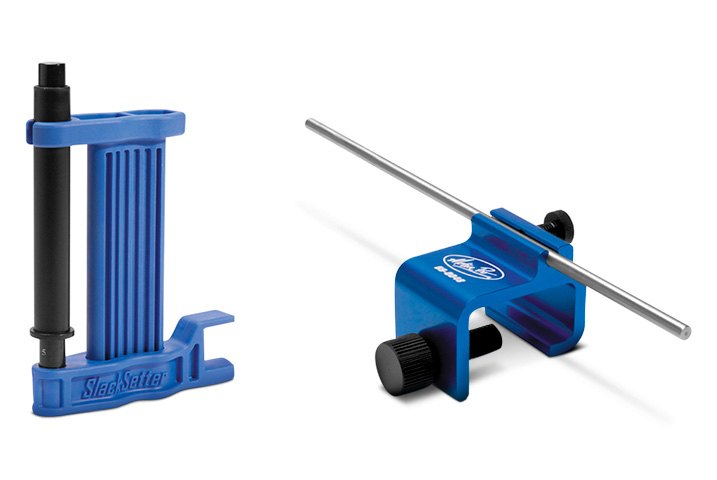 Chain Alignment
If your rear axle isn't exactly perpendicular to your drive chain and the rear sprocket and chain aren't perfectly aligned, it can cause premature chain and sprocket wear, increase power-sapping driveline friction, and even cause handling problems. You can't just go by the alignment marks on the swingarm. The Motion Pro Chain Alignment Tool will clearly show you what's going on so you can dial in the proper alignment.
Chain Replacement
Most modern motorcycles come with "endless" drive chains that don't have clip-type master links, and they must be broken to remove them. The BikeMaster Heavy-Duty Chain Breaker and Rivet Tool comes with everything needed to break and remove the old chain and rivet the master link in place on the new chain.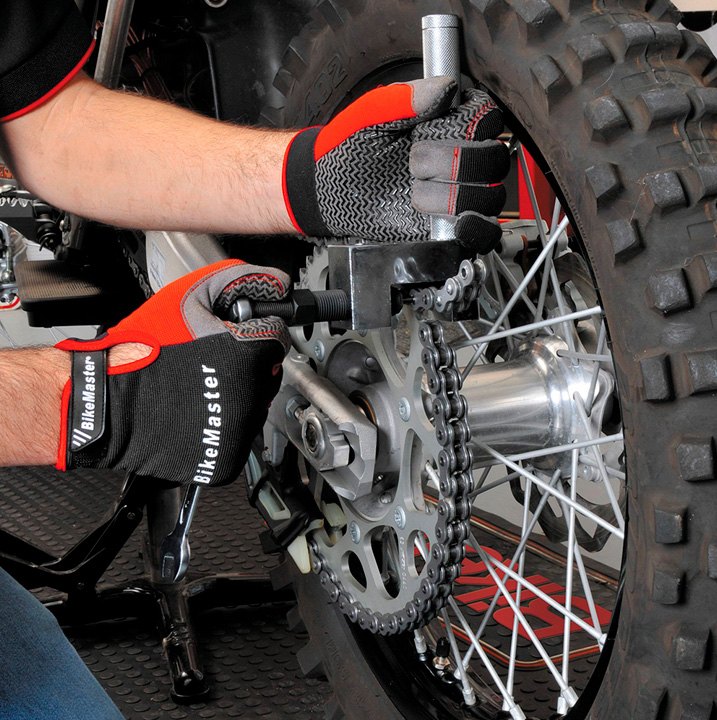 Belt Adjustment
On most popular belt-drive motorcycles 10 lbs. of pressure must to be applied to the drive belt to obtain an accurate belt deflection measurement and that's exactly what the Motion Pro Belt Tension Gauge delivers.

Engine Tools
Oil Change Tools
Oil changes are one of the most frequent services on a bike. The BikeMaster Oil Dispenser makes it easy to drain, store and recycle your old oil. The dispenser's concave side serves as an oil drain pan and with its 5 liter capacity you'll be able to do a couple of oil changes on the average bike before it's full and requires emptying via the convenient pour spout. With its low-profile design the BikeMaster dispenser will easily fit under your bike, unlike the bulky ones designed for automotive use, and it's made of sturdy chemical-resistant plastic, so you'll get many years of dependable use.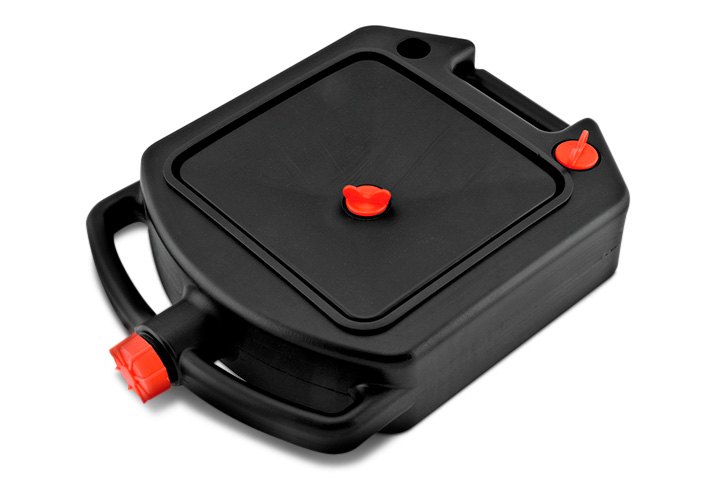 In our Motorcycle Engine Tools section you'll find oil filter wrenches that make filter removal a snap and we have wrenches sized for the specific filter on your bike as well as adjustable and universal wrenches. Plus, we have funnels in a variety of sizes and shapes so you can get fresh oil into your engine without spilling.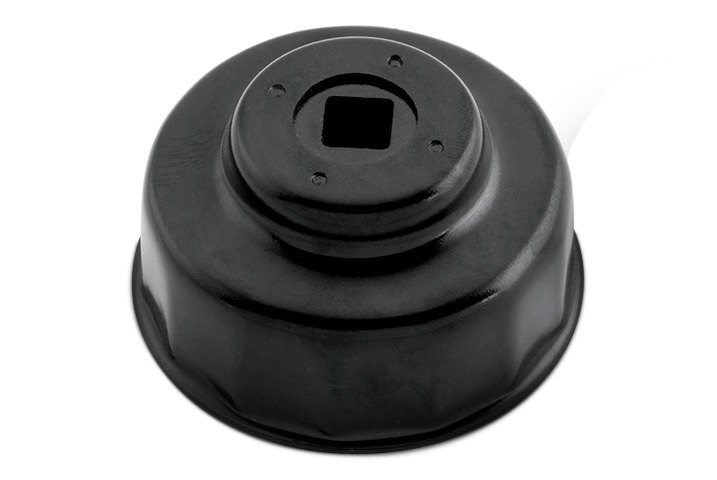 Ignition Tools
Spark plug sockets are designed with thin walls so they can access plugs in tight cylinder head recesses where ordinary sockets might not fit. Spark plugs can also be hard to reach so many sockets allow multiple driving options: with a ratchet, wrench, or with a tool kit bar or Phillips screwdriver inserted through a hole in the socket. The Motion Pro Spark Plug Socket can be turned with a 3/8" driver, 19mm wrench or 19mm socket, plus it comes with a unique 2-step swivel extension that can be turned with a Phillips screwdriver, 1/4"-drive ratchet or driver, or 14mm wrench or socket.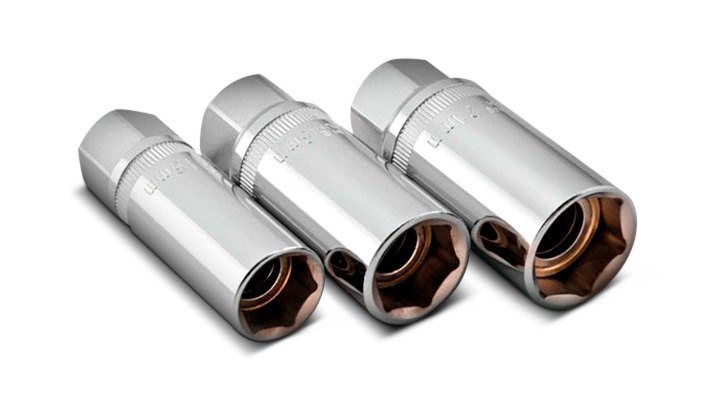 Although spark plug manufacturers may claim that their spark plugs are pre-gapped, and on some multi-electrode plugs the gap can't be adjusted, you should always check the gap with a spark plug gapping tool prior to installation. Spark plugs can be jostled in shipping, possibly closing the gap, and since one plug may be specified for different engines, you must make sure the gap is set to the specification for your motorcycle. Coin-type gappers with the graduated ramp on their circumference are fine for standard copper plugs, but a wire-type gapper should be used for modern precious metal plugs that have more delicate electrodes.

Fuel System Tools
Whether it's at the racetrack or in your garage, if you've tried to put gas in your bike with one of those government mandated ventless gas cans you know how frustrating it can be getting fuel inside the tank without getting it all over the outside as well. You'll never soak your motorcycle again with the The No-Spill Gas Can. The No-Spill can has easy push button control and the flow will even stop automatically when the fuel level in the tank reaches the spout.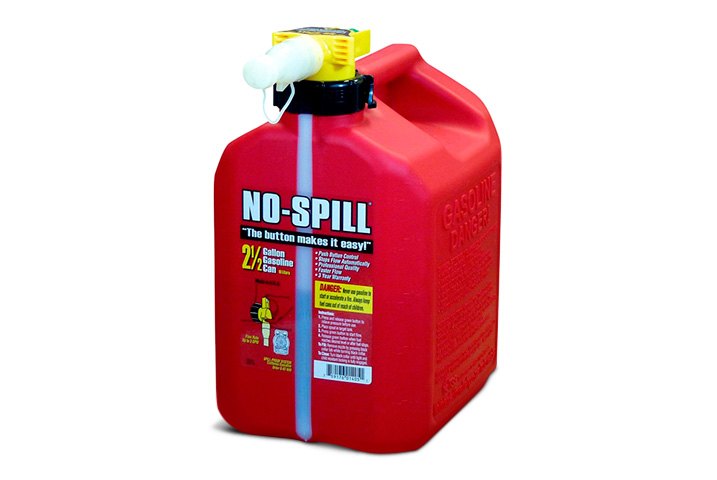 On multi-cylinder, multi-carbed motorcycles, each carburetor must contribute an equal amount of air/fuel mixture to its respective cylinder for the engine to run properly. Carbs that are out of sync can't do that and they can make your bike idle rough and feel sluggish. A carburetor balancer tool like the Motion Pro SyncPro Carb Tuner indicates each cylinder's manifold vacuum level, so you can make the adjustments needed for equal cylinder contribution, smooth running and best power. The SyncPro can be used to synchronize multiple carburetors or throttle bodies. It uses non-toxic mercury-free fluid, it's spill-proof so it can be easily stored, and it comes with hoses, adapters, a hook for hanging and instructions.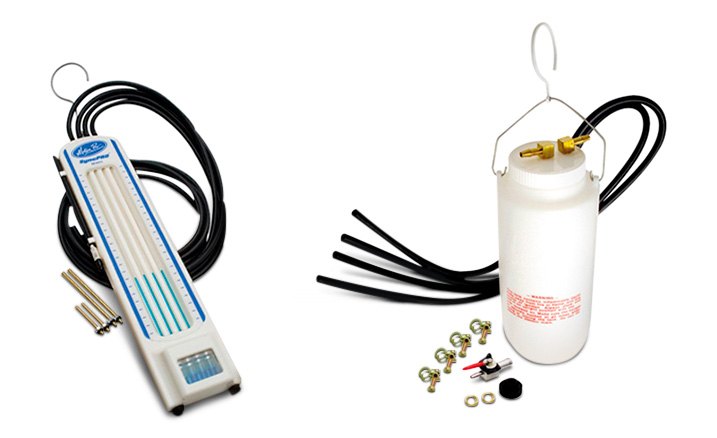 Tank removal is usually a must to gain access for carb syncing, so you'll need an auxiliary fuel supply. The Motion Pro Deluxe Auxiliary Fuel Tank has a built-in fuel return line and breather on the cap, allowing it to be used on fuel-injected motorcycles with external fuel pumps as well as carbureted bikes. Even with the tank removed, the adjustment screws on many bikes can be difficult to reach. The Pit Posse 90-Degree Offset Carb Adjusting Set is specifically designed to get into those tight places. It comes with an assortment of bits and a convenient storage case so you can keep everything together.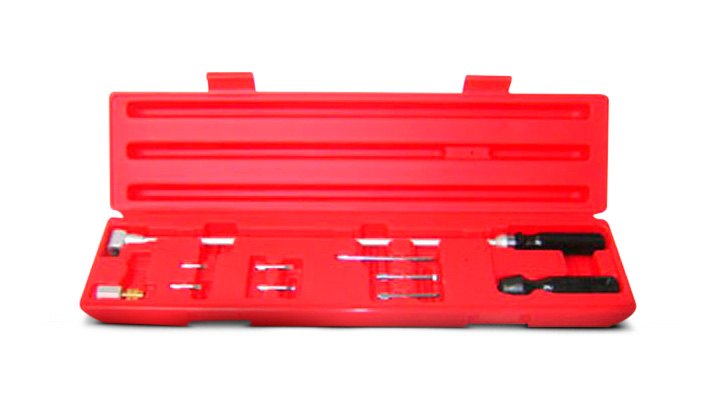 If you ride a 2-stroke bike without oil injection, then you know that the lubricating oil has to be mixed with gasoline in just the right ratio for the best performance and engine durability. Whether you're mixing fuel for your bike or for small engine equipment, no matter what ratio you want to run the Ratio Rite makes pre-mix easy. Made of rugged translucent polypropylene plastic, the graduated cup is calibrated in ccs, ounces and pints and shows the oil fill level for 1, 1.5, 2, and 2.5 gallons of fuel in ratios from 16:1 to 70:1.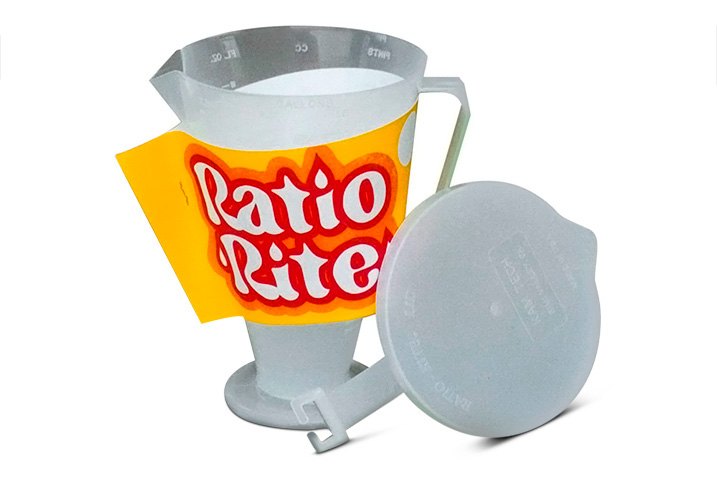 Wheel & Tire Tools
If you want to replace your tires, brake rotors, wheel bearings or rear sprocket you have to remove your wheels. Of course, the first thing you need to do is lift your bike and support it off the wheels and tires and we go over the various ways you can do that safely in this helpful article. It's best to loosen the axles before lifting the motorcycle; these are high torque fasteners and trying to loosen them with the bike raised could topple it off the stand. A handy tool that works on the axles of many late model sportbikes and some dirt bikes is the Motion Pro Hex Axle Tool. Available in lightweight 7075-T6 aluminum or heavy-duty chromoly steel, it features four metric sizes: 17mm, 19mm, 22mm, and 24mm and it can be driven via the 3/8" square drive at each end or with a socket or wrench on the external hex. The 3/8"square drive is rated to 90 lb.ft. on the aluminum tool and 150 lb.ft. on the steel tool.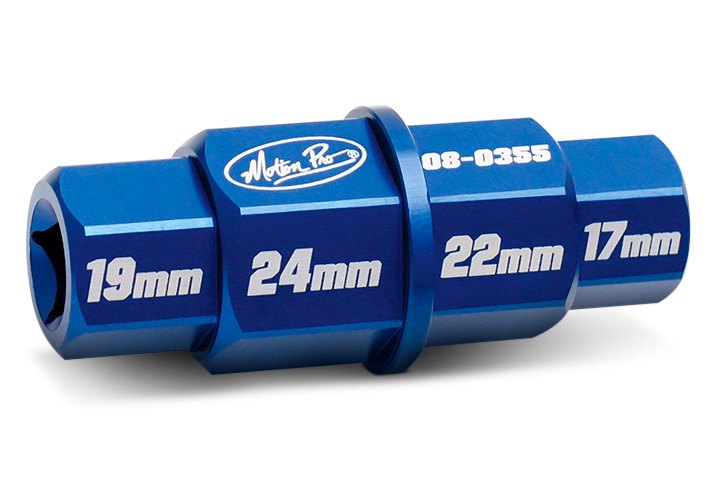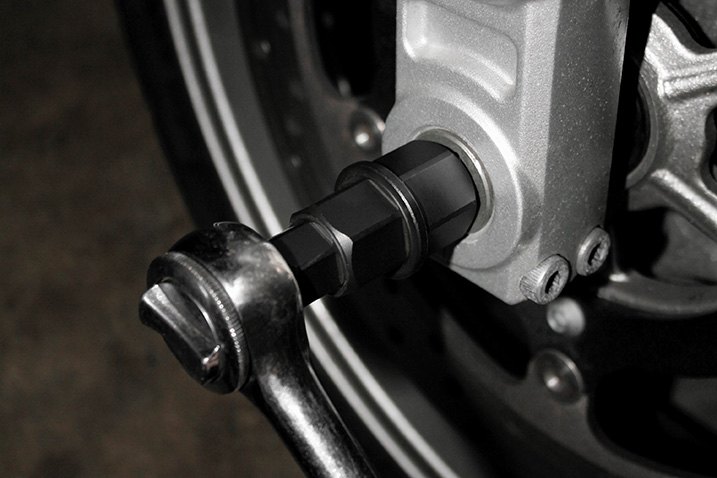 Tire Mounting & Balancing
When it's time for new tires, you have 3 choices in decreasing order of cost:
1. Buy tires from the local bike shop, drop your bike off and have them R&R the wheels and mount and balance the tires.
2. Buy tires from the bike shop, take the wheels off yourself and have them mount and balance the tires.
3. Buy tires on-line and R&R the wheels and mount and balance the tires yourself.
Mounting and balancing motorcycle tires isn't difficult, especially the tubeless kind, and when you consider bike shop rates, the equipment needed will pay for itself in a few tire changes. The first task is breaking the bead and there are several ways to accomplish this.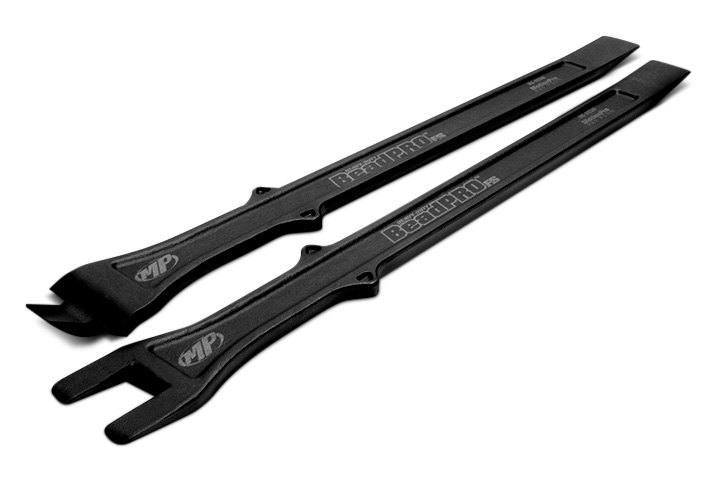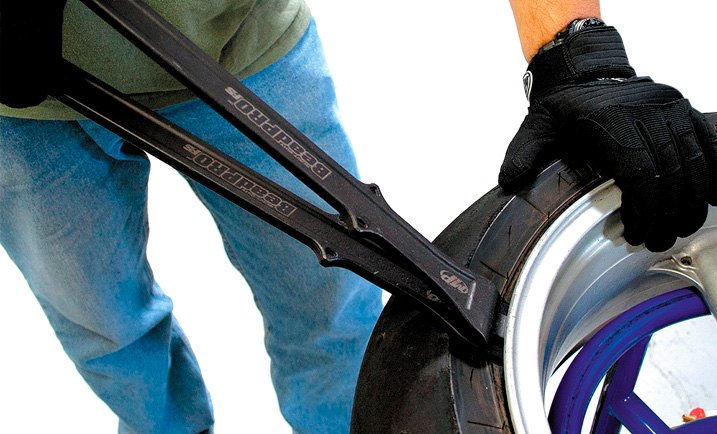 The innovative Motion Pro BeadPro Tire Bead Breaker is a lever-type tool set that features integrated tire spoons at the other end of each lever. The patented design levers are made to work together to break the bead and each has an ample 16" length for leverage and super strong chrome vanadium forged steel construction. Or, you can go with the clamp-type tools like the Stop & Go Bead Breaker or BikeMaster Bead Breaker that act on both sides of the tire at the same time. Then there is the Pit Posse Tire Stand/Bead Breaker. Made of heavy-duty steel with a black powder coated and zinc plated finish, it features a long handle for leverage and an adjustable bead popper to accommodate various tire sizes. And although it has a wide base that forms a stable foundation during use, it also features pre-drilled mounting holes so it can be solidly mounted to the floor or a workbench.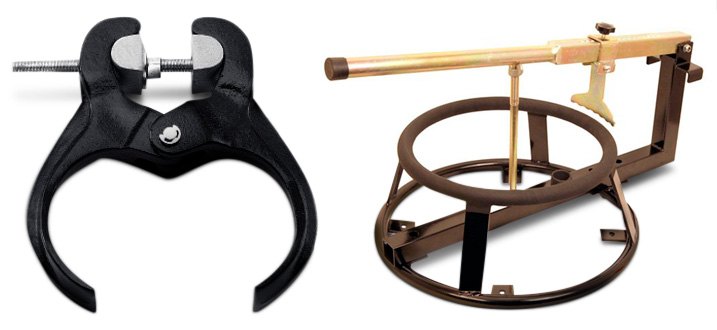 Once the beads on the old tire are free from the wheel you can lever the old tire off the rim and the new one on with tire irons. The 3-piece tire iron set from BikeMaster includes tire irons in three lengths: 9 1/2", 11" and 15" so you have two irons to hold the tire in place while you lever the tire over the rim with the third iron. Constructed from forged chrome vanadium steel, these irons have rounded edges to prevent tube pinching and an I-beam cross section for added strength, plus they're shot-peened for strength relief and nickel plated to resist corrosion. And when you're levering tires off and on with tire irons, rim protectors are a must to prevent damage to your wheels.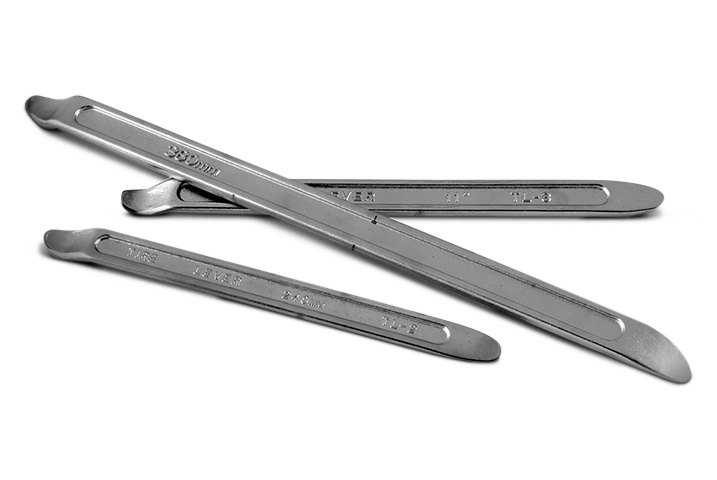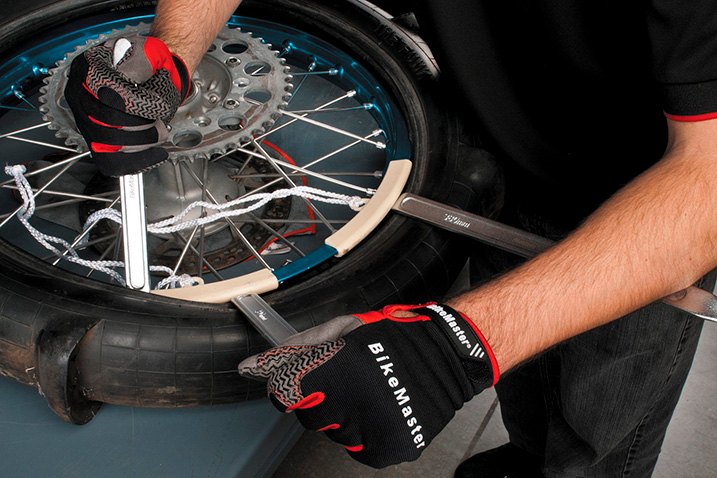 After the new tires are mounted, you'll want to make sure they're properly balanced to prevent annoying vibration and uneven, premature tire wear. Balancing takes very little time with the right equipment and you'll be rewarded with a smooth ride and long tire life. With the BikeMaster Wheel Balancing & Truing stand you can quickly and easily balance tires on wheels up to 11.8" (30cm) wide and 21.3" (54cm) tall. It features steel plate construction for stability and a bubble level to ensure the stand is level for accurate balancing. It comes with a shaft, cones and spacers to fit most wheels and an attachment for truing spoke wheels. In our Motorcycle Wheels & Tires Accessories department you'll find a selection of stick-on and spoke-type wheel weights as well as valve stems and caps, rim locks and rim strips, and more, plus we have spoke wrenches in a range of sizes.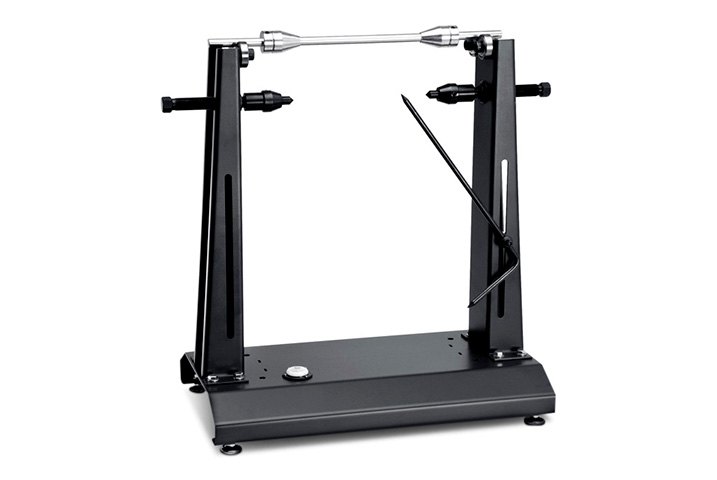 Wheel Bearings
You should check your bike's wheel bearings periodically, right away if you've noticed any unusual noise, and it's easy to do when the bike is raised and both wheels are in the air. If there is axial play and noise when the wheel is rotated, remove the wheel. If the bearings feel rough when they're rotated by hand they should be replaced. You can easily remove old wheel bearings while preventing wheel damage with the Motion Pro Wheel Bearing Remover Set. The split collet design tool includes 10mm, 12mm, 15mm, 17mm, 20mm, and 25mm drivers. The Motion Pro Bearing Driver Set can be used with a hammer or shop press to safely install new bearings with 12-25mm I.D. and 32-47mm O.D.

Suspension Tools
Fork Seals
If you've got grunge on your fork tubes and oil dripping down the fork legs then you've got leaky fork seals. Unfortunately, socket and wrench sets don't generally include the size needed to get the fork caps off, but in our Motorcycle Suspension Tools department you'll find a large selection of fork cap sockets and wrenches for all popular motorcycles so you can get the size that's right for your bike. Plus, we have fork seal drivers in individual sizes and complete sets that make seal installation a breeze.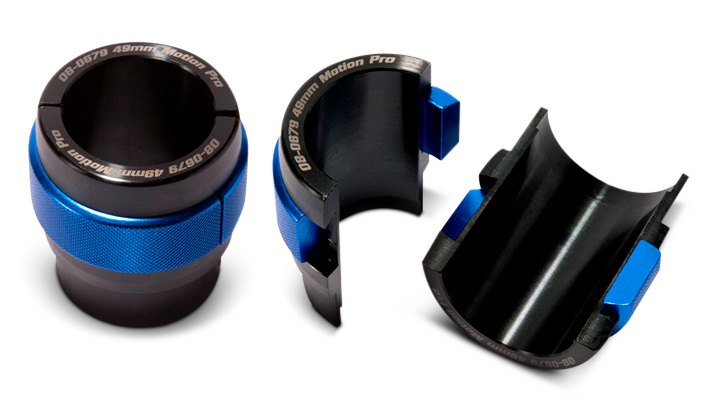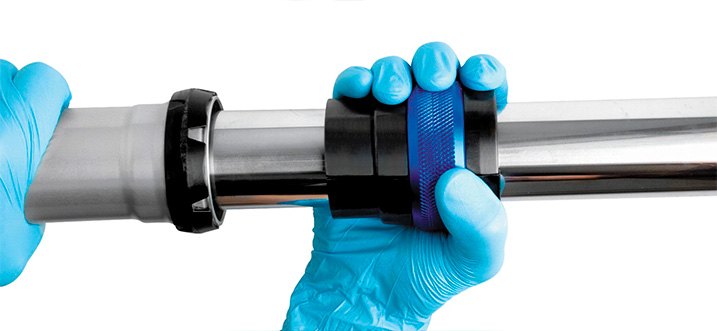 Swing Arm & Suspension Bearings
If you're like most riders you don't have a shop press in your garage. But that doesn't mean you have to pay someone to press in new swingarm bearings when your old ones are worn. With the Motion Pro Deluxe Suspension Bearing Service Tool you can remove and install swing arm pivot and suspension linkage bearings quickly and easily without using a press. The Motion Pro tool works on 20mm and 22mm I.D. bearings on most off-road bikes and ATVs and features anodized aluminum mandrels to avoid damaging bearing surfaces. It includes a blind bearing collet for removal of 20mm blind bearings and collets in a range of other sizes are available.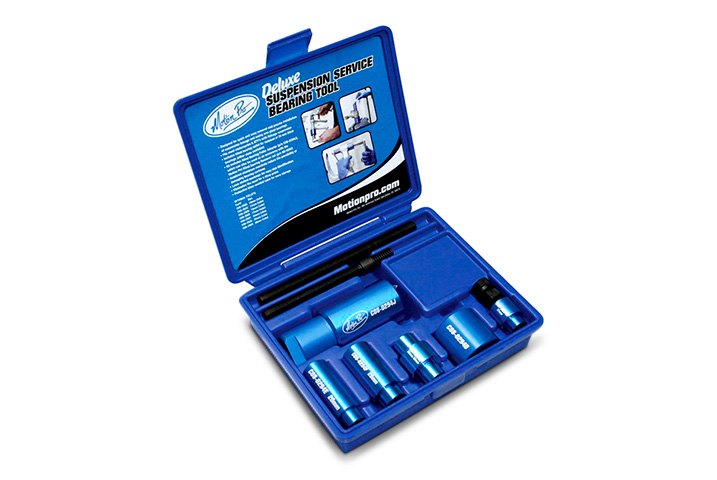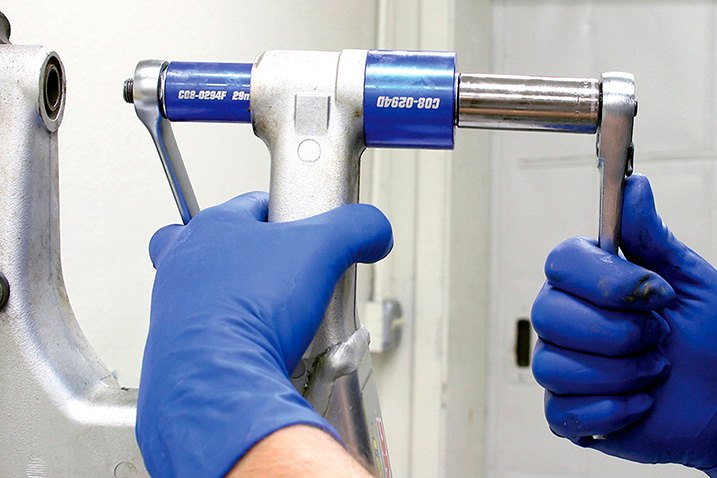 Suspension Adjustment & Tuning
When you're refilling your forks with oil after service or you want to adjust the level for greater compliance or firmness, a fork oil level adjuster makes it easy to set the oil level to specs or to whatever level you desire. Just fill the fork tube with oil, set the graduated needle to the desired oil level and use the syringe to remove any excess oil. With a hand-operated air pressure pump you can easily adjust the air pressure in forks and air shocks. An air pressure gauge is mounted on the pump body and the connector on the flexible hose threads onto the suspension air pressure valve. Air pressure can be lowered and raised with the pump attached and a check valve prevents pressure from escaping when the tool is disconnected. And finally, to adjust shock spring preload you need a tool to turn the adjustment collar and you'll find several types of universal adjusters in our Motorcycle Suspension Tools section.

Miscellaneous
Brake & Hydraulic Clutch System Bleeders
Glycol based brake fluid is hygroscopic and absorbs moisture. Over time, moisture contaminated fluid suffers a reduction in boiling point and the ability to perform when brake fluid temperature is elevated. This moisture can also corrode brake parts. This is why most motorcycle manufacturers call for brake fluid replacement every few years. Whether you're replacing the fluid or just bleeding air from the system after a brake or hydraulic clutch system repair, the Motion Pro Mini Bleeder simplifies the operation. Featuring a rubber seal that fits tightly over the bleeder valve and an internal check valve, just connect the bleeder tool and operate the lever while watching the fluid level in the reservoir, there's no need to open and close the bleeder valve. The BikeMaster Motorcycle Brake Bleeder Vacuum Test Kit makes it easy to pump old fluid and air from brake or clutch hydraulic systems, plus it can be used to check vacuum operated systems.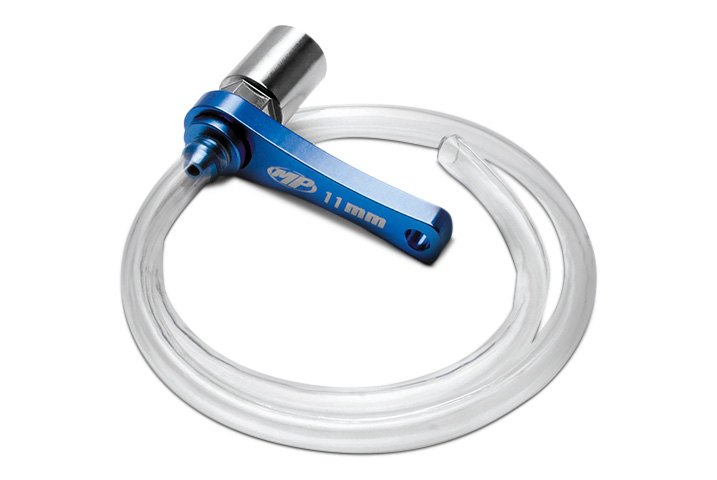 Cable Luber
If you don't periodically lube the cables on your bike you can end up with a sticky throttle or clutch and sometimes even a seized or broken cable. You can rely on gravity and put up with the hassle of the traditional plastic bag method or go with one of the inexpensive cable lubers you'll find in the Handlebar Tools section of our Motorcycle Tools department. Just insert the end of the cable housing into the tool, secure the tool to the cable, and insert the aerosol spray tube into the opening in the tool. Spray until you see lubricant exiting the other end of the cable housing. With a cable luber there's no mess and you know the full length of the cable has been lubricated.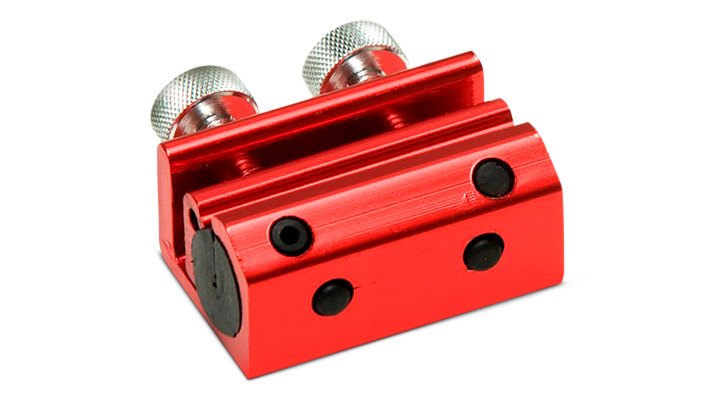 Although it may seem like we've covered a lot of special tools here, this is by no means a comprehensive listing of all the motorcycle special tools that are available. Our goal was to include the tools needed for jobs that a typical home mechanic might tackle in their garage. But if you didn't see a particular tool here or you want to take a deeper dive into your bike's repair and maintenance, then we invite you to check out all we have to offer in the Motorcycle Maintenance department of this web site.
December 18, 2020