Farmers Markets in Bangkok, Thailand: Buy the Best Fresh Produce from Local Farmers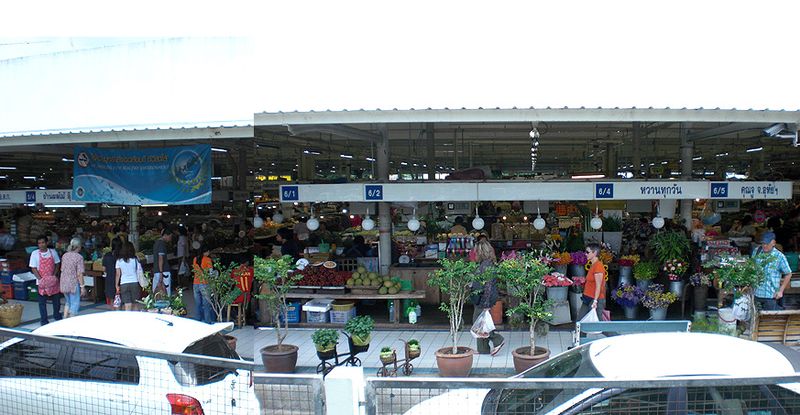 Check out these fabulous farmers markets in Bangkok
Living in Bangkok, Thailand, I am sometimes spoiled with good produce as it is everywhere. However, one thing I amvery aware of in Thailand is the amount of pesticides often sprayed onto fruit and vegetables by many of the large corporations here.
So, lately, I have been buying most of my fruit and veg at one of the local farmers markets in Bangkok — one that is near my house. As I decided "going green" couldn't hurt me.
There are a lot of farmers markets in Thailand. In fact Bangkok has many and since much of the produce the better farmers markets is also certified organic, I shop at them often.
There are three farmers markets in Bangkok within a few miles of my house which sell a variety of great food that I highly recommend.
Bon Marche, Prachaniwet 1, Bangkok – Bon Marche is the quintessential farmers market in Bangkok. It's an upscale open-air market that sells thousands of different items and is especially appealing to the shopper who doesn't mind paying a little more money for a quality product.
Bon Marche sells pretty much any food product you can think of but is heavy on the fruit and vegetables. Here you'll find your typical salad items, plus kale, cilantro, Thai basil, mango, papaya, dragon fruit, watermelon, guava and much more. All of it is grown by local farmers and all is the freshest you will see in Bangkok.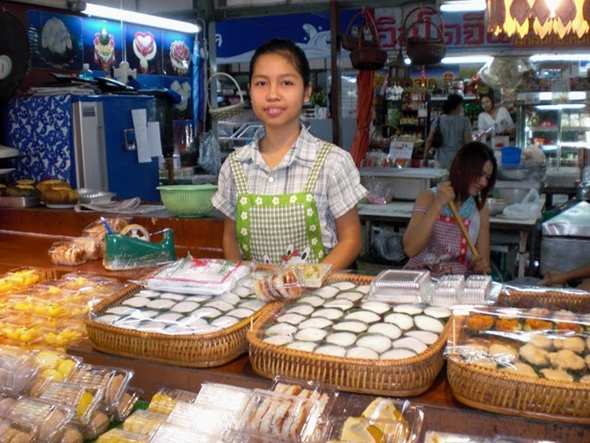 Prices are higher than normal farmers markets in Bangkok, so expect to pay between 5 baht to 20 baht more per kilo but, for the freshness and the taste, I never mind paying the higher price.
Bon Marche also has stalls selling handmade soaps, pastries and breads, nuts, Thai desserts, honey, Thai handicrafts – all made by local area farmers — and an excellent outdoor food court with a huge variety of stalls to buy food from.
Bon Marche is open every day from around 6:00 am to 10pm. Just remember, if you get there at lunch time and want to eat at the food court, you may find it difficult to find a seat at first, as the food is so good it does get very crowded.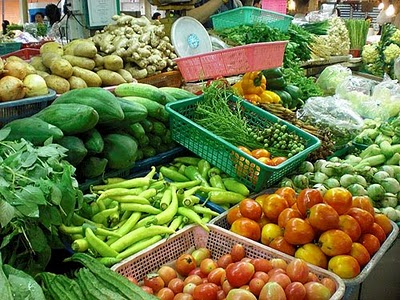 Talat Aw Taw Kaw, Kamphaeng Phet Road, Bangkok – My favorite farmers market in Bangkok for vegetables is Talat Aw Taw Kaw. 'Talat' is the Thai word for market and this one sells the best produce you've seen anywhere. I go here on the weekends to buy vegetables for my rabbits and fruit for myself as they sell a lot of organic vegetables.
They also have a lot of farmers stalls that sell organic chicken and even more stalls selling nuts, dried fruits, dried squid, Thai desserts, flowers and fresh fruit juices.
Be warned, prices here are high (more than double any other Bangkok market) so I am careful about what I buy, but the sellers are friendly and the high quality of produce is known throughout Bangkok.
Many of the top restaurants also send their chefs and kitchen staff to buy food at Aw Taw Kaw.
The easiest way to get to it is to take the sky train to the Kamphaeng Phet station and follow the signs to 'Exit 3', which also has a sign saying "Marketing Organization for Farmers".
They're open every day but the best time to go is on a Saturday or Sunday because, after shopping there, you can go across the street to Chatuchak Weekend Market. With over 15,000 stalls, it sells everything else in Bangkok.
Talat Sam Yan, Chulalongkorn Soi 6 – Talat Sam Yan is on the other side of Bangkok from where I live, but so worth the traveling time.
It is a large market with a wonderful selection of the usual market produce plus stall after stall selling fish and seafood. It is the best place to buy the enormous prawns that Thailand is famous for, many of which come from local area fish farms, as well as a couple of brands of Thai coffee grown by small farmers in the north of Thailand.
Getting there isn't that easy if you don't know the area, so I suggest going by taxi as any taxi driver knows where Talat Sam Yan is.
One of my Thai friends has a Masters degree in agriculture from a famous Thai university and she has always told me to eat more of the farmers market and organic produce available in Thailand. She says, if you don't, you may be consuming a much higher amount of pesticides and chemicals than may be legally safe.
Eating farmers market produce and, especially organic produce, is healthy because it's fresher than produce you buy from a supermarket.
You are also buying directly from local small farmers in many cases, and thus supporting the local economy, In and of itself, that's a great thing to do.
So, the next time you are in Bangkok and looking for healthy fruit, veg or other food, why don't you join me and 'go green' too.