Unless you're among the fortunate and live in the sun belt where you can ride all year long, you're facing a winter full of ice and snow and cold temperatures, which means parking your motorcycle until spring. You could just forget about your bike until the riding season returns, only to be faced with a no-start at best or worse, the need for expensive repairs, or you can perform these simple tasks and have a bike that's in top shape and all set to go when warm, sunny weather is here again.
Check Coolant Freeze Point And pH Level
Most late-model motorcycles are liquid cooled, and the freeze protection of the coolant must be adequate to prevent the water in the coolant from freezing in an unheated garage and causing expensive engine and radiator damage. We offer easy-to-use coolant test strips that will quickly show coolant freeze point and pH level, and since they should be used when the engine is cold this is a good place to start. Just dip a test strip in the coolant and compare the color with the chart on the container. The pH level indicates the acidity of the coolant. As coolant ages its acidity increases, which can cause corrosion, leaks and damage to cooling system components. If the pH level is not within specs and the freeze protection is inadequate for expected ambient temperatures, change the coolant. In our motorcycle engine coolants section, we've got pre-diluted and ready-to-mix antifreeze for the job.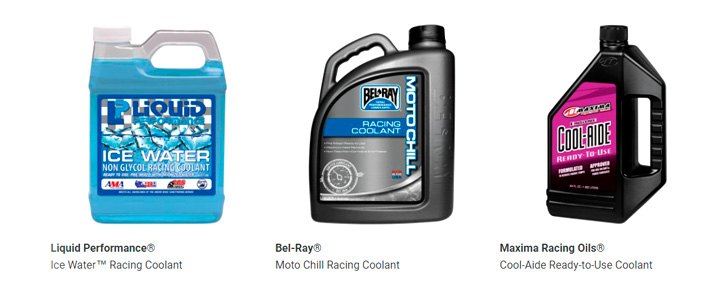 Fill The Tank And Add Fuel Stabilizer
Go for a nice long ride to warm up the engine. Take one of your favorite routes and enjoy the ride because this will be the last time you'll be getting out on two wheels for a while. On the way back top off the tank at a filling station that's close to where the bike will be stored. The idea is to have as much gas and as little air as possible in the tank during storage, to prevent corrosion caused by moisture in the air. Add fuel stabilizer to the tank and run the engine long enough to circulate the stabilizer throughout the fuel system. The easiest way to do this is to take the fuel stabilizer with you and add it when you're fueling up. This way it will be thoroughly mixed by the time you get home.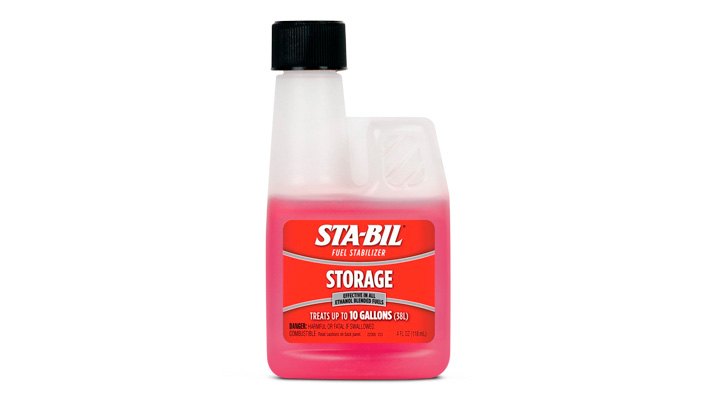 Fuel stabilizer will prevent corrosion, ensure the gas stays fresh, and prevent deposits from forming in the fuel system that could cause a no-start or running problems when you're ready to ride again. If you use ethanol blended gas be sure to use a stabilizer that will protect your bike from damage that can be caused by this type of fuel. Ethanol absorbs water, and in untreated fuel this can not only cause corrosion, but if a sufficient quantity is absorbed it can result in "phase separation, where the water and ethanol fall out of solution with the gasoline and collect at the bottom of the tank. Finally, make sure the petcocks are turned off and the fuel bowls are drained on carbureted bikes prior to storage.
Change Engine Oil And Filter
All engines, no matter how new or well-maintained, exhibit a certain amount of combustion blow-by past the rings. Blow-by gases typically contain unburned fuel, water, carbon and other substances that can form harmful acids and other compounds in motor oil. The additives in motor oil that prevent corrosion and the formation of acids, varnish and sludge deteriorate over time and with use. Don't leave old, depleted motor oil in your engine's crankcase over the long winter months and allow the acids and other harmful compounds it contains to attack bearings and other expensive components. To give the engine in your bike the best protection during hibernation, dump the old stuff and put in fresh oil along with a new filter.
And DON'T start the engine again until you take the bike out of storage for the riding season. Some riders think that running the engine for a few minutes every week during the winter is helpful, but this actually does more harm than good because the engine and oil don't get warm enough to evaporate the moisture and unburned fuel in combustion blow-by.
Wash And Wax
Acids from bug guts, bird droppings and road-borne contaminants can permanently damage the paint and other surfaces on your motorcycle if left on long enough - like over a long winter. So, before storing your motorcycle give it a thorough cleaning, followed by drying to remove all traces of moisture. Then apply suitable protectant to all surfaces. In our motorcycle cleaning supplies department you'll find cleaning, detailing and protective products for all surfaces - wax for paint, metal polish with protectant for chrome, silicone protectant for plastic, and cleaner/conditioners for leather and vinyl, plus we have lubricant for application to exposed metal surfaces to prevent rust.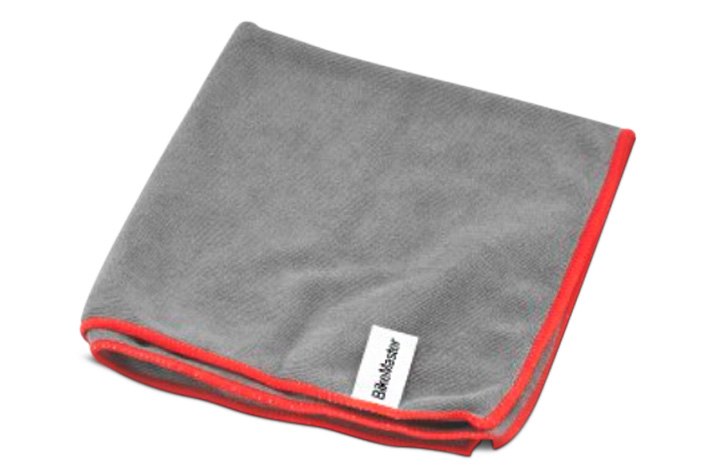 Air Up The Tires
Inflate your tires to the recommended pressure. Some motorcycle tire manufacturers say that flat spots caused by prolonged storage in one position aren't an issue anymore if tires are properly inflated. Others recommend supporting the bike off the tires, so they aren't loaded at a fixed point for sustained periods. If you want to keep your motorcycle elevated during storage we offer motorcycle lifts and stands for all types of bikes, just make sure the bike is supported and secured properly so it can't fall if accidently bumped during storage. An inexpensive alternative that will spread the load around on the tires is just rolling the bike a few feet to a new spot every few weeks. If you've got a center stand you're ahead of the game and only need to rotate the front tire occasionally during storage.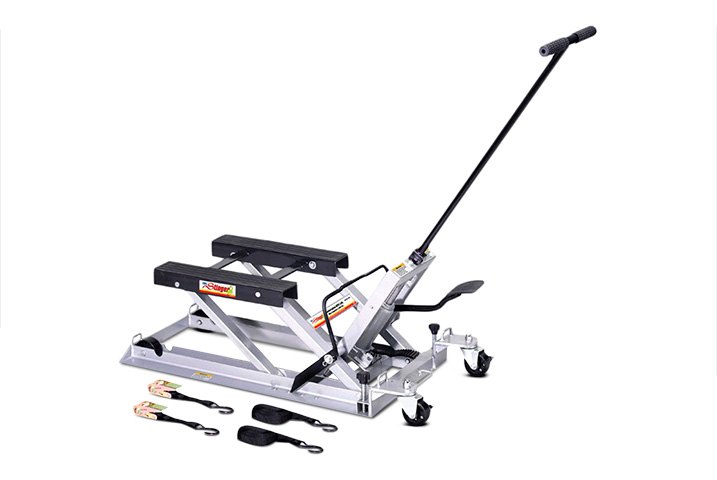 Connect A Battery Maintainer
Left unattended, a motorcycle battery can self-discharge over a long storage period, leaving you with a dead battery and a no-start when you're ready to ride. Even worse, a battery left in a low state of charge for a prolonged period can sulfate and become permanently damaged. Such a battery cannot be recharged and must be replaced. These days, most motorcycle batteries are maintenance-free, but if you have the conventional type with removable caps, then your winterizing prep should begin with making sure you have the proper fluid level in each cell.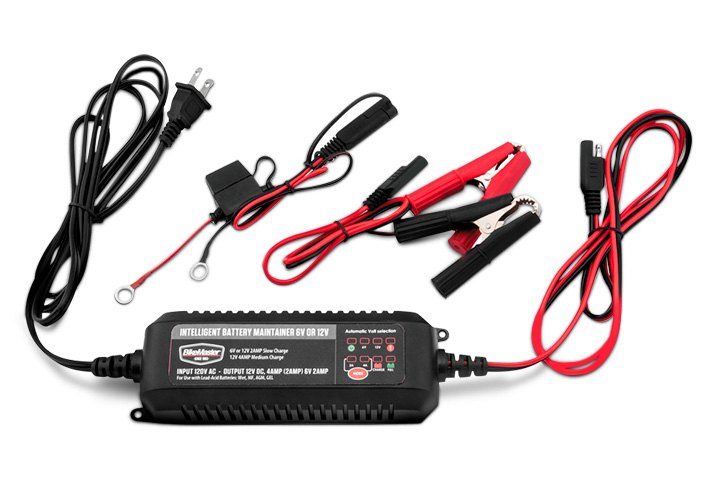 To avoid springtime battery woes, connect a battery maintainer, sometimes called a smart battery charger or "float" charger, to your bike's battery while it's in storage. This type of charger automatically monitor's battery condition and maintains the proper charge level. It's specifically designed for long-term connection and there's no need to be concerned about overcharging. Battery maintainers come with conventional cables and battery clips, but most also include an easy-to-connect 2-pin SAE harness. The latter can be permanently attached to the battery terminals, with the 2-pin connector positioned where it's easily accessible, making battery maintainer use a snap. You'll find a large selection of battery maintainers in our motorcycle charging units department.
Cover All Openings
Cover your exhaust pipes and air filter to prevent rodents and insects from turning your bike into a winter resort. Wrap plastic bags around the air filter and exhaust pipes or you can plug the pipe openings. We offer universal pipe plugs and model specific airbox covers in our motorcycle cleaning tools department. These are primarily designed to keep water out when your washing the bike but they're ideal for long-term storage use as well. Doing this will also seal out moisture that could corrode your bike's internal engine parts during hibernation. To further prevent corrosion on cylinder walls and piston rings, you can also pull the spark plugs and spray fogging oil into the cylinders.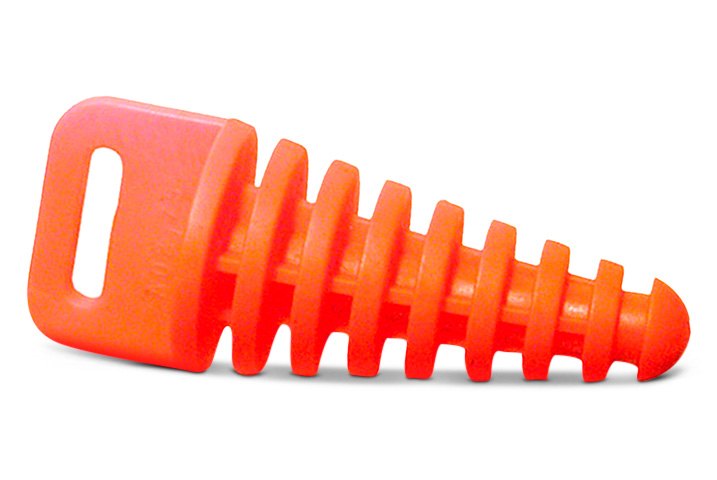 Cover The Bike
Even if you store your motorcycle indoors, away from the elements, you should keep it covered. There's always dust in the air, and it can act like a fine abrasive and leave scratches if it's rubbed into the paint. Plus, if you're like most enthusiasts and DIYers, the garage is also your workshop, and airborne particles from sanding, polishing and painting projects can drift over onto your bike's finish. A cover will provide a barrier between your motorcycle and potential damage. But don't just use something like an old tarp that can trap moisture underneath in damp areas and regions with high humidity, leaving you with a rusty bike come springtime. Invest in a lightweight breathable motorcycle cover designed for indoor storage. A quality indoor cover will protect your motorcycle from dust, dirt and corrosion due to moisture buildup, and accidental damage from light contact, preserving the finish.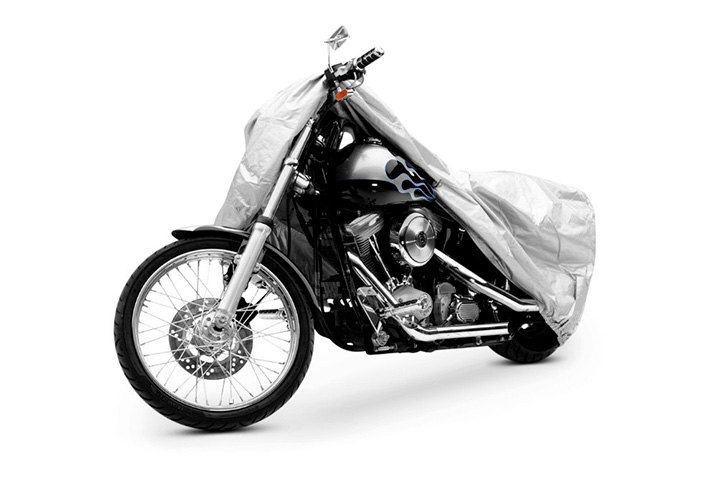 However, if outdoor storage is your only alternative, you need a cover that's more than dust-proof, but also weatherproof and UV-resistant. The ideal outdoor cover should shed water but also be breathable to allow moisture to escape. It should also provide protection from UV rays to prevent fading. There should be elastic at the bottom to hold the cover in place and/or grommets, so the cover can be secured during severe weather. In our motorcycle covers department, we offer universal, semi-custom and full custom indoor, outdoor, and indoor/outdoor motorcycle covers for all sizes and types of motorcycles, including bikes with windshields, fairings, saddlebags, sissy bars and other equipment.
October 20, 2020